I just had to make one more card using the Jumbo Sticky Rounds, this time with the Comfort Cafe Fabric. I choose this fabric because the design was small and consistent and I liked the colour combination.

Since the fabric has Soft Suede and Summer Starfruit as its colours, of course, I picked the same colours for my card. And embellishing the card was quick as I choose those same colours again – Soft Suede Taffeta Ribbon and a Summer Starfruit Dahlia. The Dahlia looked kind of lost on its own so I layered it onto a dark brown Naturals Designer Button with a mini glue dot and used a second mini glue dot to stick it to the fabric flower.
I also used leftover fabric underneath the ribbon to make it stand out more and tie the card together.
Don't forget to enter to win blog candy this weekend – click here.
To make the rosette, fold an approximately 1" wide piece of the Summer Starfruit patterned fabric from the Comfort Cafe package (126894) in half along the length. The length of the fabric required will vary depending on how tightly you wrap it and how much you pinch it. I usually start with the full length of 27" for my first card. Starting at the outside of the Jumbo Sticky Round (127852), pinch and fold down the fabric as you work you way to the middle.
To Order Stampin' Up Products in Canada, Click Here
Paper: Soft Suede (115318), Summer Starfruit (126839), Whisper White (100730)
Fabric: Comfort Cafe (126894)
Other: Jumbo Sticky Rounds (127852), Naturals Designer Buttons (127554), In Color Dahlias (127556), Soft Suede 3/8" Taffeta Ribbon (122967)
The In Color Dahlias are exactly the right size for layering on top of the darkest coloured Naturals Design Button. These buttons have a wood-like finish that make them a great addition to so many cards- masculine, nature and more.
Naturals Designer Buttons $6.95, 24 buttons, 8 each of 3 designs 127554
In Color Dahlias $9.95, 20 flowers, 4 each of 5 colours 127556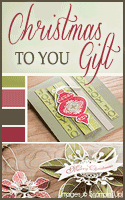 Christmas Gift Promotion: Get a FREE Festive Paper-Piercing Pack when you buy the Ornament Keepsakes Set and Candlelight Christmas Specialty DSP.
Click Here to see the packages or click here to see the flyer.
Single Sayings: Buy your favorite single pieces from these popular stamp sets!
Word Play, Perfectly Penned, Seasonal Sayings