I don't watercolor very often because I'm not the best at it. But I am do find that I am slowly getting better with some practice.
Some things I have learned that work for me:
• Use watercolor paper
• Start with a small amount of colour and add more as needed
• Leave some white space and don't worry too much about the outside lines
• I love the control I get from the tip on the Aqua Painter but I think I grip it too hard because my projects are always ready to float away. My solution is to use the Aqua Painter with a small cup of water and dip into it as needed.
Tip: When watercoloring and using a cup to hold your water for painting, don't drink from the cup. Ask me how I know this isn't a good idea.
So, tell me, do you like to watercolor? What method do you like best? Any tips for me? Please leave a comment below.
Have a very happy Thanksgiving!
Last Day! Don't forget to enter to win blog candy this weekend – click here.
I wanted a simple accent on this card so I used my Simply Scored Scoring Tool to add two lines in each direction.
A fast and easy embellishment!
Stamp the Gently Falling stamp set image with Black StazOn ink.
Scribble with the watercolor crayon onto a clear block or other non-porous surface (like the lid of a yogurt or sour cream containers) and pick up the colour with your wet Aqua Painter. You can add more colour to the blocks as needed or if you have too much colour save it on the block for next time.
To Order Stampin' Up Products in Canada, Click Here
Stamps: Gently Falling (Wood 123802, Clear 123804), Pursuit of Happiness (Wood Wood 121907, Clear 121970)

Inks: Black StazOn (101406)

Paper: Watercolor (122959), Cajun Craze (119684), More Mustard (100946), Garden Green (102584)
Other: Regal Watercolor Wonder Crayons (119803), Aqua Painter (103954), Simply Scored Scoring Tool (122334)
Regals Watercolor Wonder Crayons
Set of 10, $21.95, 119803
Try coloring directly onto your stamp, misting lightly with water, and stamping onto your paper. You will get an instant watercolor image!
You can also take the pigment directly off the crayon with your Aqua Painter to color a stamped image as I did.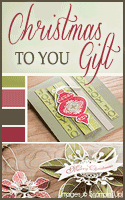 Christmas Gift Promotion: Get a FREE Festive Paper-Piercing Pack when you buy the Ornament Keepsakes Set and Candlelight Christmas Specialty DSP.
Click Here to see the packages or click here to see the flyer.
Single Sayings: Buy your favorite single pieces from these popular stamp sets!
Word Play, Perfectly Penned, Seasonal Sayings